I'm still in a transitional phase. Work is long hours so good money, but it's killing everything else.
I had an upbeat day a few days ago when I decided to get back to my running and sax, but I've not, yet.
The only thing I'm keeping up at the moment is my painfully slow learning of the Spanish language. I've put all the lessons on my 'phone so they shuffle up randomly. I was struggling over one lesson and not moving on until I'd mastered it. This way, I've found out by accident, is more like natural learning. I think. You are bombarded with stuff, most of which you don't get the first time around, but by constant repetition you learn it. Which makes other bits fall in to place.
Anyway, I've finally finished the introductory course and I've just started on the language builder.
It's not like I'm in a rush. And if Theresa the Appeaser does bollocks Europe up for us I'll just go back to learning Russian, but with my new approach.
That's it.
Work, a vague desire to return to saxing and running, and plodding on with my Spanish.
The only other thing is bikes. Glorious bikes!
The VFR750 (black one) didn't sell, even at a £300 reduction. Bugger 'em.
I've stuck a new back tyre on it as the tyre on it, although it still had loads of tread, kept spinning up in the wet. I did it today. The guy at the tyre place said "That'll be why, this one is from 2005."
A 12 year old tyre! With tons of tread! What the actual hell is wrong with people? Even running two bikes I'm not expecting to get more than two years out of a tyre.
Once I knew there was a way to find the date of tyres I googled how and checked my other tyres. I've only just changed the front one on the VFR800 (red one) the back one is 2014 and quite surprisingly worn. I noticed a small groove in a flat spot on the centre of the tyre. A strut that was supposed to support the hugger (mudguard close to the tyre) had snapped and was rubbing against the tyre! I took the strut out. The hugger is supported everywhere, it obviously doesn't need it.
I'll be using the black one as a winter hack to I'll easily get another month or two out of the red one's back tyre, then replace it next year. It was £143 for the black one's tyre so I'm in no rush.
That just leaves the black one, front. It wasn't alarmingly old (forget exact date) but I'll be keeping an eye on it. First signs of dodgy front end and it's getting replaced.
Seeing as I can't sell it I'm getting the black one ready. I've changed the back tyre and the footrest (which had been welded, frightening off one potential buyer) and I've booked it in for a service at that local bike garage. It's not the dear one, and he is letting me supply my own brake pads (which I'd already bought) for him to fit, so that will save me more.
The only other thing is my red one, the front end, I just don't like it. It feels like it's really stiff to lean it over to the right, but virtually falls in to the left. Hammer and Tongs said they'd do a service on my forks for £180.
I was looking through the paperwork that came with the bike and I saw the rear shock had been replaced and the front forks upgraded by Maxton Engineering. It seems they take crap front shocks, strip the guts out of them and rebuild them internally with their performance voodoo parts.
This was done in 2001, when the bike was right at the bottom of the country. I thought I'd google the company and see how far they are. For once I got a break. They are near Frodsham!
They've said they'll strip the forks, replace the seals and reset them back to perfect for £145.
They are busy right now (who isn't?) so it could take a couple of weeks. So I'll get the black one serviced on the 20th, (he was busy right now, couldn't fit me in before) then ride that while I take the forks of the red one for a service.  Then, say January, when surely no bike mechanic is busy, I'll take the red one back to have the valves checked (which will cure what I suspect is a slightly leaking head gasket) then the red one is good for years.
When they stop spreading salt and the red one comes back out, either sell the black one or get the valves checked. Then that one is fully sorted.
Then as I've said before, it will take years before I have to have anything else done. Just ride the buggers.
I mean, if I'm keeping it I could upgrade the rear shock and remove the lowering device on the black one. But, apart from your foot grounding out during enthusiastic cornering, it's still perfectly rideable.
And, before I go for any epic trips on the red one, possibly a seat upgrade and the slightly raised handlebars that 100,000 miles yank owner recommended.
But these are just optional extras. Once I've paid for the main jobs there is nothing more should *need* doing for years.
I was thinking if I go for long runs I should do it on the black one to save racking up the miles on my mint condition red one. And don't throw the red one around too much for fear of crashing it. But that's just a milder version of those arseholes who buy bikes as a retirement fund and never ride them. It's a bike. It's purpose is to be ridden. To do less robs it of meaning. It stops becoming a thing of joy and becomes a worry. You no longer own a fantastic bike, you are owned by a fantastic bike.
And that's my homespun philosophical cliché for the day.
Later,
Buck.
PS, I took the new back tyre for a spin up around Hardknott Pass and such in the Lake District today to wear it in.
Here are some snaps.
I've made it.
Full time gig, ideal bike, money pouring in.
The taxman finally contacted me to say as I'm paying them the money my accountant stole from me (instead of paying to HMRC) they couldn't refund me. After 8 weeks 3 days of sitting on their arse. I had to cancel the direct debits, but then they paid it straight to my bank. So they say, not appeared yet.
The good news is; my last accountant, the not robbing-bastard one, said they'd calculated it  to be £850 HMRC owed me but HMRC made it more, I'd have to wait and see which amount they paid me. I looked online while chasing it all up today, HMRC are refunding me £1.235.59! Ker-ching!  That's a bit better than £850.
If my first week's wages are representative (my second week was virtually the same hours, so probably) I'm now on £40K p/a. for a 5 day week. Including bonuses and bank holiday pay.
I've said it before, but when you've walked around with a safety pin in your fly because you couldn't afford a new pair of jeans, this is minted. Proper rich.
I say that. We've still got a big loan to pay off, Wendy is constantly thinking she's going to lose her job (not her specifically getting sacked, more the whole bureau shutting) and there's the looming threat of Stobarts, but for right now, things are peachy on the money front.
The trade off is it's long hours, and starting at 11.00 I don't see Wendy except in passing, and I have no life other than work and sleep. I've not got time to do anything before work, and it's far too late when I get back.
It's like the "dead man's shift" of 2-10, but with 3 hours tacked on the start and usually a bit on the end for good measure.
Don't get me wrong, this is still the best job I've ever had, and loads of money. But the money is because of all the hours.
I'm in a state of flux. I am seriously thinking about selling my sax. And the other one when the HP is clear. I had a bad day a week back. I was struggling with some new-ish tunes and I suddenly thought "I'm just not getting better." It's been ages, off and on, and I'm still crap. And it's a pain in the arse lugging a sax back and to to work.
And the running. I just haven't got time to train. It's not that I want to give up running, but if you can't run regularly you get big injuries when you do. And you are always at the 'painful/ crap' stage, never at the level where you are fit and pushing hard and really improving.
Which leaves me with work, the glorious ride to and from work, and sleep.
It's a nice position to be in financially, but everything else is dying on its arse.
I'm not having much luck selling my VFR750. If it doesn't go this time I'm going to stick it in the bike garage (possibly a different one so I don't have to die of shame) and get the brake pads changed, get a new rear tyre, then use it as a winter hack as soon as they put the salt down. It's ideally suited for the gig. Lowered seat, already scruffy, nice and predictable ride. With the exception of the current rear tyre. Oddly it still  has loads of tread but I managed to spin the back end up 4 times in 2 days in the wet. Not my idea of fun times.
I don't mind having two bikes, especially two VFRs. It would save a lot of winter corrosion on my nice bike, extend it's life and service intervals, and still give me a really decent bike to ride, without worry, over winter.
Whatever the downsides to this gig, it's bloody nice that I've got a Veefer (or two) and can pay someone to keep it professionally pristine. Thinking about it, there are plenty of bike related niggles upon which to spend all this future money. The VFR750 needs brake pads and possibly a service, also I could do with having the valve clearances checked if I'm keeping it. That's a fair bit of cash right there Also, just for cosmetic reasons, I could do with a new gear and brake lever, footpegs and the engine cover repainting.. The VFR800  steering feels a bit off. Sort of having to push it in to corners rather than flowing in. Hammer and Tongs do a full fork rebuild for £180. Whilst it's stripped I could get them to powder coat the fork legs, the only signs of cosmetic wear on the bike.
See, there goes the best part of 1½ grand. Easy as that.
The thing is, if I am keeping them both, once the jobs are done, it will be ages before I need to do it again. Oil change every 5 000 miles, valve clearances every 16,000 miles.
If I run both bikes, 6 months each, that's an oil change roughly every 1½ years, and valve clearances every 5 years. Get the initial hit out of the way and then it's just fuel up and ride. And I have a bike to ride when the garage fanny about for a week at a time.
Hmmm.
Bugger. I've talked myself into this. I hope no bastard goes and buys my Veefer750.
Later,
Buck.
The Honda VFR is sometimes called a Veefer.
I'll get my coat.
Trial and tribulations, I've bloody had them.
I put the VFR800 in for a full service as the back brake was wooden and weird. The advisories on the MOT were for worn brake pads and front tyre. I've already changed the tyre.
I thought if the previous owner had let it get in  that state I'd better get everything checked and professionally set right.
I booked it in to a full-on bike garage. I had to wait 2 weeks for an appointment. Then they took the bike off me and held on to it for a week. I got it back and rode it to work.
The back brake was still shite. They'd only changed the front brake pads despite the MOT. They gave me a big list of all the work they'd done. Of which "rear brake, tested, OK", and "test ride, OK" were but two.
The more I thought about it the angrier I got. If the back brake hadn't been touched that meant I couldn't trust any of the other things on the tick list.
I rang them up demanding to know why the hadn't touched the back brake, the sole reason I'd put it in for service and brake change. The guy said it seemed OK. I said that it's wooden. You can stand on the rear brake pedal and not lock up the back wheel. "You took that for a test ride and thought it was safe?"
He said to bring it back on Saturday to put it through a brake test.
Right. Getting shit sorted, me.
Then riding it home I really put the brake through it's paces. Speed up, stand on brake. Nope, still not locking up. Slowed right down though. Tried again. And again. One thing I did notice, the front end was diving under heavy braking. That's not right, back end should lock and slide, front should remain unaffected.
Oh dear.
I got home and googled it. On my VFR750, the back brake feels normal and you can lock it fine.
For the VFR800 they introduced linked braking.
Oh dear, oh dear.
Under heavy braking the rear brake, rather than lock and slide, activates the front brake to stop you. Virtually impossible to lock the back up. And the MOT advisories were for worn front brakes pads. Not rear.
Oh dear, oh dear, oh dear.
I had to ring the bike garage up the next day and apologise. That was character building. Must have given the mechanic a laugh. I have a Cone Of Shame on order. XXXL.
Also, whilst the 800 was in I was riding my 750. And I loved it. I got to thinking it felt a smoother engine with better power delivery. So not good. Just got a pristine version of my ideal bike, bought a stainless steel exhaust system and bloody expensive top box and rack, then decide I prefer the older (not fuel injected) version!
Wendy took it well. When I 'phoned her from the Ecuadorian Embassy.
Happily I think it was just because I'd been tip-toeing around on the new front tyre before I took it in for service. I took it for a thrash about and I just love it. Got me a fully serviced, less than 18,000 miles, bullet-proof engine, good for 100,000+ miles. Comfy, goes like stink, and will plod about quite happily at 30mph. The W650 was just for posing on, it didn't handle and it didn't go. (Though I loved it.) The TL1000S was just too much. There was no pottering around mode. It was flat out or parked. And flat out for that was somewhere way beyond the reach of my license.
My Veefer is ideal. Another review of it in Motorcycle News was pitching it against the competition and marking them each in different categories. They said at the time it was a "nearly perfect motorcycle" and gave it 92%. It battered the competition.
I've never had a top box on a bike before, but the one on the 750 was a real bonus. It's great for stashing your lid and such. I thought, as I was selling the 750 I'd buy the specific frame arms for the 800 and transfer the base plate and box.
Bought the arms. £70+.
The base plate didn't fit those arms.
Bought the specific base plate., £30.
You guessed it.
The box didn't fit on that base plate.
Already committed by that point. Had to buy the specific box. Which cost me another £98.50.
Just to stash my lid.
Anyway, fitted it today. Better be the best top box in the history of overpriced plastic.
Overall though, I've got a brilliant bike, fully serviced and checked out, with the replacement exhaust system for when this one rots through, and the added practicality of the top box.  Very happy Bucky!
Also I started my new full time gig last week. It promises to be loads of dosh. a 13 and a 13½ hour shift in the first week. I've finished buying stuff for the bike, so now can start making some cash.
Once I get my rebate off HMRC (8 weeks on Tuesday, still no refund) and sell the 750 we'll be right again.
I got this full time gig and immediately started thinking which brand new bike could I treat myself to, further down the line.Turns out I don't want any new bike as much as my Veefer. If you're not lusting after bikes what is the purpose of money?
Later,
Buck.
We went to Scotland for a break last week. It was proper nice. We saw wild deer, visited Cawdor castle (Shakespeare or history or some such) and tramped about a bit. Quite splendid.
So that was all very nice.
I have to own I was missing my bike though.
I was glad to come back to my own bed and my bikes.
Yep, I'm old.
Forgot. The VFR750 has a dashcam thing. I left it running, in the rain, and captured this.
Oops, baldy bastard Bucky.
I explored the options. Try to look cool with a toupee:
but end up looking like this:
So it had to go. *sad face*
Or, in the wild
The full version of that pic is better, but you can't see my hair. Which might be a good thing.
Ho hum, 51.  I've had a good innings.
I returned to work on Sunday, (12hrs 45), then Monday (12hrs). As I was finishing on Monday one of the drivers asked me if I'd got one of the full time jobs that were going. What full time jobs? I asked the transport clerks and they said they'd asked people about 2 weeks ago. While I was on holiday. Gutted. I'd already asked for full time the last time they asked, 4 months ago.
The clerk said to ring a manager today (Tuesday, my day off) and enquire about it. From the tone of the driver I thought they'd already given the jobs out. I rang anyway. He wasn't in.
Then out of the blue a senior manager rang me. Which shift did I want?
I was caught on the hop, but tried to catch up with the conversation as it went on. He was talking like I'd put my name down, been through selection and got the job. He offered me 13.00hrs start, Sunday-Thursday, 11.00hrs, same, or 07.00-10.00 on a weird, rolling shift thing. I initially said the 7-10, but he said the rolling thing meant it was 4 out of 5 Sundays, and 2 Saturdays. He said to think of the weekends. Fair do's. So I said if at all possible I'd like to go for the 11.00hrs,
Right, start next week. If they can get it up and running in time, I'm to have Saturday off and start on Sunday!
Bloody great!
There's also an unconfirmed rumour that Tesco's are have had enough of Stobbarts and are thinking of returning to in-house drivers. I wouldn't mind the buy-out as long as we don't have to work for the green terror.
The other thing of note. I was all excited as I booked my bike in for a full service, change the brake pads, and do the fork seals and oil. I booked it in two weeks ago. This was the first available appointment at this dedicated bike garage I've found.
I took the bike in this morning (day off) expecting to pick it up this afternoon. The guy said "We're really busy at the moment, it'll probably be ready next Thursday."
Caught me on the hop so I just took it. It wasn't until I was on the bus home that I started getting annoyed. They arranged and appointment for a couple of hours job, then say they are going to leave the bike standing for over a week before they even touch it. I could be riding it. And they arranged a date. It's just not cricket.
The more I think about it the more angry I'm getting. I'm in two minds now, whether to leave it with them this once and never go back, or to go and collect the bike tomorrow.
Hmmm.
I've still got the VFR750 to ride in the meantime. Unless someone buys it on eBay in the next 1 hour, 28 minutes. It's been up for 10 days and I've only had one half hearted enquiry, so probably not.
If the 750 sells I'm picking it up.
I'm sure the bike will be perfectly sorted and good for another 5,000 miles (next oil change) when they've serviced it. But it grates.
So, mostly great news today.
Later,
Buck.
I know. This is of no interest to anyone but me. I've given up imagining anyone but me reads this, so that's alright, then.
It's been a rollercoaster ride.
I was trying to be sensible and sell the two bikes to pay for that gorgeous, fully sorted one. But I kept looking at it, then looking at every other VFR750 up for sale, then back at it. None of the others were sorted. Some were tidy, some were low miles, but I would have still had to splash out on fork springs (£118), rear shock (£300), on some of them the stainless steel exhaust system (£300) etc…
I drove Wendy nuts with my obsessing. She told me to get the bike just to shut me up. Win!
I texted the guy, but it was an 18 day old advert. No reply. I was despairing thinking he's sold it. Tried an email, some people don't like texts. He replied, still had it! Joy unbounded!
I arranged to go and see it, arse-end of beyond. Got the cash out, bought the train ticket, (£47, nearly 5 hours trip) arranged the insurance, went to bed all full of new bike joy. Woke up to "DO NOT TRAVEL, BIKE SOLD!"
Devastated beyond words.
My perfect bike, sat there unwanted for 19 days, I was on my way to make sure it was as described then hand over the cash, and some bastard snapped it up.
I lost £20 cancelling my insurance, and the £47 for the train ticket because I'd booked it in advance. But that was just salt in the wound. So gutted.
So, as ever, I changed my plan.
I thought, "Bugger it. There is nothing wrong with my bike. It's a bit scruffy but the engine is solid as rock, I'll just sort that out on the cheap."
I window shopped all the prices, it came to over £600 in bits, some of which were hard to fit, the mechanics charge £63 per hour labour, so over a grand. And I'd still have a scruffy bike. I was up for it. But Wendy who is, as I say, (justifiably) heartsick of me fucking about about with bikes, said "Why not just bite the bullet and buy the new (2014, £6,500) one? You won't have to do anything to it. For ever."
I was sorely tempted. I want, I want. But it's so much money.
I spent hours googling. It turns out the reason the VFR750 is a legend of reliability and bulletproof engine over-engineering is the gear driven cams. There is no cam chain to slap, stretch or snap. But cam chains are much cheaper and easier to manufacture. So after a decade or so of utterly redeeming themselves Honda went back to cam chains in 2002. Cue cam chain issues. It's Honda, so I expect they quickly got it right, but it was the cam chain model that nearly ruined their reputation, and after they stopped the gear driven cams they had to do a model recall for the cam chain.
The consensus is, the last generation before cam chains, the '98-'01 model VFR800, is the pinnacle of human achievement. Amongst VFR owners at least.
So then it was back to the grind, googling.
I was applying the same criteria. Tidy, low mileage, sorted rear shock, exhaust, screen, etc.
I came up with this:
A 1999 VFR800i. Fuel injection, gear driven cams, immaculate, genuine and provable (by all MOT's) 17,000 miles, rear shock upgrade, hugger (a sort of mudguard tight over the back wheel. Stops crap flying up and rotting your shock) upgraded ECU so more power, race can and original end can, and RED!
Red ones are faster.
Fact.
'Cos science.
£2,295.
The only down side is it doesn't have a full stainless steel exhaust system. But if it's only got 17K miles after 18 years on the road, I'm guessing it's not seen much rain. Or winter salt.
I was so chuffed. I rang the guy and we talked about it. He confirmed all of the above. I watched a video of a guy doing a 111, 000 mile review on his 2002 (cam chain! Boo-hiss!) model. He said with slightly raised handlebars and a bit wider seat he'd done loads of endurance events. 1000 mile ride, 24 hours marathon, etc. He'd had two electrical problems since new, but apart from that, he said change the oil every 5,000 miles, the chain and sprocket set every 20,000- 25,000 miles, and (over those kind of miles) flush the brakes, radiator, etc periodically. But he said that was it. Just get on and ride for ever.
Abso-fucking-lutely ace!
So I text the guy for written confirmation of miles, MOT proof, etc. It's not like I can just nip around and view the bike, it's in Littlehampton, which is basically as far as you can go down South without getting your feet wet.
OK, "buy now".
Text him again, saying "OK, I've committed when can I come down?"
He text me back an hour later saying someone has made an offer an is coming to view it on Thursday. NO! This can't be happening again.
I said I'd clicked "buy it now", 50 minutes ago.
He is an eBay noob, apparently. Away from his PC and unaware of the sale. Who doesn't have eBay on their 'phone? Or at least email to get your eBay notifications?
Anyway, he said, somewhat reluctantly I felt, that I had won. The bike is mine and he is in for an awkward 'phone call today. Tough.
Now I'm waiting for him to tell me when I can pick it up.
That's me sorted.
Ultra reliable, tiny mileage, smart as a carrot bike, runs forever.
So chuffed.
The CB750 has already been bid up from £100 to £310 with 2 days to go. When we get back from our hols I'll list the VFR750, and that's that.
A bike that runs for ever, eats miles, has a good tank range, relatively comfortable, (can easily be made very comfy) will plod about, stable and predictable, but will shoot off like a scalded cat if asked. Perfect.
I'm happy. Wendy will be ecstatic. Life is good.
Buck.
PS I went and got the bike yesterday. Right on the goddamn channel coast. £108 train ticket. Transfer by tube in London. All in all, less than ideal. I had seen one for £800 less, that was in Oldham. I showed it to Wendy, to be fair. It was tidy, same age, none of the desirable upgrades mine has. And it was bright yellow. I had to show Wendy as I was wanting to spend £800 more just for what it looks like. Wendy hated it thankfully. I've spent a bit more, travelled the length of the country, paid £108 for a train ticket, but it's a bike I want. If I'd have bought the yellow one, every morning I would be getting on it knowing I'd settled, and I would have resented it.
So I kept a chipper disposition through the hardship and expense yesterday knowing this was exactly the bike I wanted.
It has every MOT since new, the miles are a genuine 17,000. The original owner was a minted perfectionist. He imported the endcan from Australia,and it is actually useable. Nice sound, not deafening. Then spent £700 getting the rear shock upgraded and the forks fettled.  I wish I'd have got the bike off him. The guy I bought it off, the second owner, Huw, clearly had no idea. The rear brake is wooden. You can stand on it and it won't lock up. The front tyre had plenty of tread left on it, but the MOT advisory said it was perished. A tyre that had rotted from old age before it had got worn out! Unbelievable. The tyre still looked OK to me, but you don't want to be doing 140 (not that I ever would, m'lud) and be proved wrong. For the sake of peace of mind I got a new tyre today.
As Huw had let the tyre rot and the back brake go to shit I've put it in for a full-on service, (and change the front brake pads, –worn, on the advisory-  and bleed the brakes) so I know I'm starting from a totally sorted platform.
I asked them to check and adjust the valve clearances. It's 17,000 miles, supposed to be checked at 16,000. He said it was a 2 day, big job, and these bike don't need one before 25,000 anyway. He'll have a listen when servicing it to make sure there's nothing amiss.
Then that's it. I just have to ride and enjoy it.
The CB750 that I was going sort the back brake, MOT and sell for £850, I put up spares/ repair for £100. It's already had 31 bids and is currently standing at £510 with a day to go!
Then sell the VFR750 when we get back from holidays and all is well.
Just look!
Just look at the engine for an 18 year old bike.
And the view from the cockpit
Happy Bucky!
My biking obsession is driving Wendy to despair. But I'm sure she's sharing my joy, really. Deep down inside. Well hidden. Behind a smokescreen of rage.
Anyway.
I got that TL1000S after the Motorcycle News (MCN) review that basically said it will scare the shit out of you and try to throw you into the scenery.  Guess what? It scared the shit out of me and tried to throw me into the scenery. Oddly it's not as much fun as it sounds.
It was just an awesome, full-on, loony machine. There was no 'potter around' setting. You were either committed or parked. It still sounds fun. In real life that's great for dry, straight roads, terrifying in the wet at roundabouts.  It's probably just me, never having had a race bike before, but it was just too much. Being a V twin 1000cc the power didn't build with the revs it just kicked you in the arse as soon as you touched the throttle. I couldn't feed it in. I was in two minds about it. I'll never own a bike that awesome again, but if it's that bad in summer, imagine riding it to work through winter? I was on riding on eggshells as it was. The tickover problem decided me. The (£60 p/h!) Suzuki specialist mechanics said it would need an engine strip to find the problem, possibly thousands of pounds.
I sold it.
I was going to sell my CB750 as well. Put it through the MOT before the insurance runs out on the 21st, and it failed. Of course it did. Back brake disc worn, pads buggered. Also advisory on chain. I remain in a state of flux over bikes, so I pulled the ebay listing, ordered the disc, (already had some pads) and chain and sprocket set and was going to keep it. I'm finishing off fitting it today when the rain stops.
Then I came across an MCN review of the Honda VFR750 from the 90's.  "For many, bike journalists included, the best road bike ever built."
Whoa!
MCN don't mince their words. (My favourite being a review of a supersports bike "Goes like buggery. Just as uncomfortable.") That is a breathtakingly audacious statement.
Apparently Mr Honda had the idea that a V4 engine was the future, rolled out the first generation of bikes, but they were flawed, "chocolate cams", cams kept buggering up. So it was either scrap the whole V4 concept and accept brand humiliation or redesign it as the most wonderfully over-engineered, bullet-proof, benchmark legend ever to be built. Honda. Obviously they redeemed themselves.
MCN: "A Honda PR man once (fairly) famously joked that "I don't care how much a VFR costs, it's worth three times as much." He's not far wrong."  "For a Japanese superbike, the VFR is about as good as it gets. Build quality is sublime, reliability… is total. Don't let high mileages put you off: VFR head over 75,000 with impunity…"
So then I *had* to have VFR750, the '94-97 model with the sexy (MCN) "Ferrari-esque louvres on its side panels."
I was looking to try it out and if it's as wonderful as they say maybe get the new version (VFR800) some way down the road. Wendy, who is sick to the back teeth of me fucking about with motorbikes, said I should just buy the new one. I priced a 2014 (latest model) bike for £6,500.
I went so far as to arrange a loan. Then I bottled it. It's one thing to run old bikes, buy and sell, possibly crash, but £6½ K for a bike I might not like?
I got a '94 instead. £1,400. The amount for which I sold the TL.
After stepping off the TL I was a bit worried I'd bought a dud. Again. You have to wind the revs up and wait, and wait, and wait.
That was just adjusting to the V4 engine. The V twin was instant, uncontrollable power. This one will potter around at 30mph all day quite happily. Then you rev it and away she goes! I'm a convert. The thing about Honda's is the perceived blandness. They aren't seen as idiosyncratic, or quirky, they just do the job, quietly, efficiently, safely. After the TL I can now appreciate that. Two days into ownership and I was chucking it into roundabouts lower and faster than the TL. Because the power comes in smoothly and predictably and the brakes work without spitting you off, I can ride it properly. I had to tiptoe around the TL.
I've heard lots of tales of 100K plus bikes still going strong.
This one isn't my final bike. The shocks need sorting front and back, and the previous owner had it professionally lowered. It's a bit short for me. But this is definitely my final choice for model.
I thought I'd test out the claim that it was a 600 miles a day comfortable bike. On a whim I rode down to Camborne in Cornwall and back yesterday. 700 miles. She'll chug along at 90-100 for hour after hour, effortlessly, then go like stink for an overtake. The tank is good for nigh on 200 miles before the warning light, (and it has a petrol gauge as well! First bike I've had with one. Brilliant for peace of mind.)
I wouldn't say it was the comfiest bike I've ever had, the old Honda CX500 takes that prize, but it's tolerable. After 700 miles I wasn't in as much pain as riding the TL 100 miles. Also the TL only had a 90 miles (motorway) tank, about 80 miles commuting. Crap.
I probably did it wrong, to be fair. Here to Cornwall with one stop for fuel, wander around an hour, then one stop on the way back.
I would love the new model, but when you can get a 20,000 miles, fully sorted (shocks upgraded, brakes fettled, pristine condition) 1995 VFR750 for a fifty quid short of  £2k, good for another 80,000 miles, why would you?
So now the plan is to sort the CB750, MOT and sell it. Fit the brake pads for the VFR750, sell that. Buy a pristine VFR750.  Look smug.
Here's the one I want. Whether it will still be there when I've got the cash is another matter. Still, one will come up again.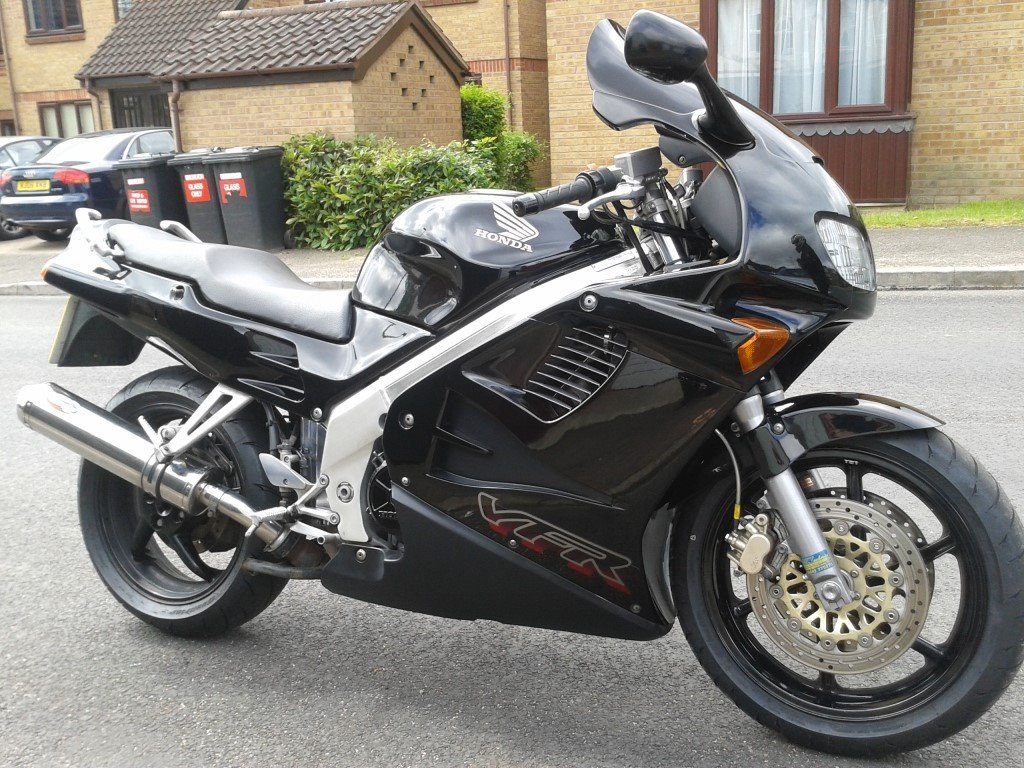 It's got a full service history, the upgraded shocks front and rear, braided brake lines, the bigger screen and it's not been lowered. So basically everything I want on mine.
Pity it's not red. Much as I love black for everyday things, it's a scientific fact that red ones are faster. Wendy was unaware of the fact. Basic physics, that.
Right, this is just me ranting about bikes. I have to tell someone and Wendy reaches for her gun every time the B word comes up.
Later,
Buck.
PS, Fitted the chain and sprocket set (after ordering a new bolt for the front sprocket which snapped off rather than undo) and tried to adjust the brake which was seizing on. No joy. Tried to move the whole caliper across and that bolt snapped off. *blubs*
I'm selling it spares/ repair. I've totally had enough of this shit. Also put the VFR up for sale with the brake pads unfitted. I'm not buggering another bike up up trying to fit them.
*This* is why Wendy wanted me to get a new bike; so I can never touch it. She may have a point, actually.
I've got both bikes up for sale, the CB750 has already sold, 4 days to go, just got to wait and see how high the bidding goes. Hopefully someone will buy the VFR750 as well. I've emailed the guy over the pristine one above. It's a 19 day old advert, so I may have missed that boat. If so, it takes the pressure off at least. I'll wait for the next spot-on one and bank the cash.
I know, another boring bike entry.
I want to share the joy and terror that is my new beast.
I've de-badged it since that picture. Took off all the stupid 'Relentless' stickers and such. It looked like a boy racer's Subaru. Seems you heat them with a hair dryer which melts the glue and they peel off, then use GooGone to wipe away the residual glue. Gawd bless the internet.
There is still a problem with tickover. I've tracked down and joined a TL owner's group, TLWorld, and found it's usually down to to the Throttle Position Sensor (TPS) needing adjustment and the the air mixture in the cylinders need balancing. Something about throttle bodies, I think. The TPS thing is what it says, something that senses where the throttle is and tells the computer to throw petrol at the engine.
It doesn't look too big a job, but you have to strip all the fairing off. If I'm doing that I may as well service it as well, so I've got plugs, oil filter, air filter, and all the gaskets to the exhaust (which is still too loud, I've ordered some –second hand- genuine Suzuki TL1000s end cans as a last ditch attempt to quiet it down).
I'll service it, replace the exhaust gaskets, fit the standard end cans, adjust the tickover, set the TPS and balance the throttle bodies (or whatever that bit is called.)
If it's still cutting out then I'm taking it to the professionals.
It's a hazard to shipping at the moment. I was sat between the cars at the lights, revving up a massively loud bike like a boy racer just to keep it from dying, then I let the clutch out and it stalled. In my embarrassment I hit the starter, grabbed a hand full of revs and dumped the clutch, all in one motion. Wheelied away between the traffic. So not good.
Another bracing moment was heading over Kingsway bridge. I shot up behind a car, which then put it's indicator on and braked towards the pavement. Whatever. I swerved past it, accelerating. Police car in the middle of the road heading straight for me! Oops. Hit the brakes and the back end swung right out. The brakes are fierce! In a split second it slewed so far round I thought I was getting spat off. I lifted and straightened up just before, but my arse gave an almighty twitch, I can tell you.
As I say, I've joined TLWorld. It's the first owner's group I've seen that host a list of "Fallen Members."
Pretty sure my last Japanese sports machine club, the Micra owner's group, didn't have a list of the glorious dead.
I'm going to leave instructions so I can be added should my luck run out.
It is such a beast. With the low speed problem at the moment, especially, she's just screaming "MORE! MORE! RIDE ME, YOU PUSSY!"  the whole time. It's a six speed box, easily reaches 70mph in 3rd. You can hit a comfortable 140mph and then change up a gear.
Allegedly. So I've read. On the Autobahn.
In unrelated news I also want an unmarked plod detector. I've just looked at the system. It works by detecting police radios which apparently beep every 3 seconds to make sure they are connected to network. Without decoding the signal, which would be illegal, it just registers that there is one. Nearly £800, if it can be fitted to a bike (I've asked) but the tories have just changed the law so plebs who speed will have to pay up to 1½ times their weekly wage in a fine. The maximum penalty remains £2k, so the rich are alright. Which is a relief.
More than the fine worry, there's the whole 'losing my license/job' thing. While I was looking into it I saw that Cheshire police have started fielding unmarked plod bikes specifically for persecuting bikers. £800 is a lot of cash, but it is potentially peanuts.
Talking of money pit motoring, Wendy has got her provisional license. I've added her to my car insurance. I've got 9 years no claim's bonus, we're in our 50's, for 6 months they've robbed us £504.40! On top of my insurance.
And they've made me take off my protected no claims thing.
Bastards.
I had a massive week at work last week. I got the Bank Holiday (double time, and day in lieu) my sixth shift was 12½ hrs long (time and three quarters) plus 36 hours overtime (time and a half).
And just like that it's disappeared.
Still, at least it's coming in. To rapidly go out. But better to have it going out than have nothing coming in.
In Cornwall we were so desperately poor I was walking around with a safety pin in my fly because it was bust and we couldn't afford a new pair. When you can't afford a pair of jeans, you are poor.
Right, bedtime.
Later,
Buck.
I forgot to say in my last post that my TL1000S has had the rear shock upgraded. That was the problem, apparently. Squirrelly back end, ECU dumping way too much power all at once, and tank slappy front end. I don't know about the ECU but I doubt I'll be testing the limits of the bikes performance any time soon. The front end did feel light, but if it scares me I have the steering damper. I can fit that. I saw an advert for one in Dorset, completely original. 6,000 miles on the clock, one owner for the last 20 years, original rear shock, mad ECU, no steering damper. I was tempted by the 6k, one owner, but thought it wouldn't be worth buying a barely used bike if I was going to put it into a ditch before I got it home.
So, my TL is quite the responsible choice. Go me!
Once I've sorted the niggles. The new, "road legal" exhaust silencers arrived today. Yay for quickness and relative cheapness! I got them out of the box, looked down them, can see clean through. It's just a pipe running down the middle with a slight bend at the end. They are slightly less deafening than the ones I want to replace. Super.
I was having some major issues with that. I emailed the seller to see if they do any additional, actual working, baffles to kill the noise. While I was waiting I was back on ebay. My only other option seemed to be second hand original silencers. If that was still too loud, sell the bike.
The seller got back to me. He's said if I send him the baffles (baffles! My arse! It's a slightly bent pipe that fits in the end of the can) he'll modify them to quieten the pipes. For free. Really nice of him. I'm sending them off tomorrow, it's worth a shot. God, I really hope that works. I need a bike I can ride.
If not, second hand end cans, then …
Also the number plate light is out. It's not the bulb (LED's) so I'm going to try to track down the fuse box (really well hidden), failing that, off to the mechanic. I panic in the face of electrical problems.
If I can sort the noise and the electrical problem, put a jubilee clip on the air intake manifolds to stop them slipping off, and swap my mirrors when the new ones come, I've got a shit hot bike.
Also I want to spend some time stripping of all the cheap "racing" stickers from the bike. But that's just cosmetic.
I can't wait for it to be fully sorted. It's an awesome bike to ride.
I think as soon as the TL is 100% I'll be selling the Honda CB750. It's a sterling workhorse, but I can't see me ever walking past the Widow-Maker to ride it.
Right, just had to vent.
Later,
Buck.
It's taken me many, many years of wrongheadedness but I finally understand.
All my life I've gone for bikes that look pretty; naked, air-cooled, poser chic.
Today was my first proper ride out on the Widow-Maker. Plastic fairings hiding an ugly, water-cooled (admittedly awesome) V twin engine.
Took her for a spin up to the Lake District, learning about the pains of sports bike riding on the way. My wrists! You seem to be supporting your whole, chunky-monkey, body weight on your wrists. I took the pressure off by supporting more of my weight with my back. Which then hurt my back like a bastard.
Also, some fool has fitted this beast with hideously loud exhausts. My ears were ringing afterwards, even though I was wearing ear protectors the whole time. As soon as I got it home on Saturday I ordered some road legal end cans. Poor neighbours!
So there's the pain and the noise. Then I pulled off the motorway onto the twisty A roads of Cumbria.
Oh. My. God!
I've wrestled bikes around bends before now. Often. And some had some poke.
Forget it. No comparison.
She flicks from left to right through the bends effortlessly. Think about acceleration and you're already there. Get nervous and the brakes have you. They could stop my truck, I think.
The only thing is it's ridiculously overpowered! I was doing 70mph (on the motorway!), thought it was a bit rev-y, (though only halfway to redline) so I tried changing up. I had two more gears! Also, even with my tenuous cornering, I could feel the front end getting light.
Some good news about the end cans I was forced to buy to quieten the beast down. With my failing reading vision, squinting at my 'phone, I thought it said stainless steel end cans, £244 for a pair, titanium, £249. For the sake of a fiver I ordered the snazzier ones. I looked again, on the PC, and it was £294.Bugger. Still a steal for what it is, but it's purely to make it useable, I'm not *that* arsed how it looks. I emailed the seller (of both sets) on ebay and asked would it be possible to change my mind and get the cheaper ones. He consented and refunded me £81. Huh? Yep, seems he had a special deal on! Brilliant.
There are a few niggles with the bike, very minor. One embarrassing one was it kept cutting out on tickover. The revs would drop below 1,000 and it would die. I was worried I'd bought a dud, but I googled it and the tickover is supposed to be 1,250 rpm. Found the knob, sorted it.
That was after today's ride. During the ride at every set of lights (or whatever) I was having to rev a stupidly loud bike like an idiot boy racer. I felt a right twat. Road legal end cans with the sorted tickover should cure that.
There are a few other things. The right hand mirror has been smacked at some point and won't stay set. Ordered a new pair.
There are a few allen bolts missing out of the fairing. It's a 20 year old bike. You can buy them on ebay.
Even with the teething niggles it's an awesome bike.
I finally get it. The cafe racers of the '50s and '60s have become an aesthetic, but it is for this they were aiming. It's like the Americans calling indicators 'blinkers'.  Blinking describes it, but indicating is what it does. A cafe racer was just a poor man's attempt at a modern sports bike using the agricultural hardware of his day. I've missed the point all this time. I was hooked on the looks of the previous generation's sport bikes without really seeing them for what they were. I wanted a blinker not an indicator.
Further insights if I should survive the learning curve.
Later,
Buck.
I know, right? Immediate interest.
I have had a moment of epiphany. All my life I've judged bikes by their aesthetics. How they look and sound. Over the last month or so I've completely changed my criteria. What about a bike that does bike things? Goes like stink, brakes, leans right over in corners?
I was looking at the Suzuki SV650. It's not pretty.
It's a 650cc V twin, so it has lots of torque and grunt. It's water cooled and fuel injected so no messing about. And the best thing about the ugliness is, it's occurred to me that while you are doing the death-or-glory business, you'll never know what it looks like!
Also, being a V twin, just by changing over the exhaust you get a glorious sound.
I was all set on getting rid of my bikes and buying one of these. They are quite old now, and were budget to start with, so you can get a good one for £1,800.
Then I stumbled across a review saying the standard dismissal of them as scaled down TL1000S' wasn't entirely true.
Really? What's a Tl1000S?
This:
OK, it's got a bikini (half) fairing. And it remains ugly. But with added plastic ugliness.
But what does it do?
Here is someone opening one up. Don't worry it wont take up many seconds of your life.
That's actually the TL1000R, the sanitised and sanity-ised version of the TL1000S.
But you get the picture.
I was reading up on the original, TL1000S, beast, Suzuki's snub of the Ducati V Twin sports bikes, on Motorcycle News:
"The Suzuki TL1000S is a motorcycle which has become the Freddie Kreuger of biking."
"will always retain the ability to scare the pants off you occasionally."
"The rear end starts moving, plus the front end of the TL1000S is liable to flap about as the sheer grunt lifts the front wheel. Result; one scared rider, and possible excursions into the scenery."
"barnstorming motor, even today, with 125bhp ready to kick your arse within two seconds of opening the throttle fully."
Obviously this all sounds like a hoot. But I discounted it as they said the insurance was group 16 out of 17. Just so I could say "You'll never believe what they wanted for insurance!" I did a mock quote.
£155 p/a, fully comp, parked on the road.
WHAT?
The bikes are only £200 dearer than the SV650, the insurance is £20 more, and they are ridiculously scary fun. It's a no-brainer.
Apparently when they first came out they immediately gained a reputation for tankslapper crashes and one person died.Supposedly they sorted that out with steering dampers and better mapping of the fuel injection But they are still referred to as Widow Makers. In fact, you can google "V twin widow maker" if you forget the bike's name. The bright side being, they are cheap as chips to buy! And possibly not as lethal as reputed. Possibly. More on that story later. Maybe.
So now I just have to sort my pretty bike and my winter hack out. The W650 was running fine when I put it away for the Winter, come to polish, MOT and sell it and the bugger is only running on one cylinder. Well, 1½, maybe. Bastard. Changed the plugs, pulled the carb jets and cleaned them, checked the floats, changed the petrol… buggered if I know.
Which is another factor in my complete about face. I want a bike to just get on and thrash. I'm through with dicking about with them. It was a bad habit I was forced into when I was too poor to have an option. Screw that.
Anywho, that's my latest obsession.
In other news the saxing is really coming on now I've got a decent one to practise on. And I have a blow most days at work.
Also my fitness is slowly getting back up to scratch. I did a fair fast (by current standards) 10 mile run, then backed off a bit for fear of injury, yesterday did a half marathon (13.1 miles) at a slow pace. It wasn't easy, but I'm not broke today, and that's about all that counts.
Right, best get to bed. I'm getting 5 days/ 6 days every week, but the start times mean I'm getting up at 04.00- 06.00, by the time I get in and sit down I just want to sleep. I was so tired yesterday I was actually considering giving up running altogether. I sucked it up and did a half instead, but it was a genuine choice. Rest (from running) today, small one tomorrow. If I could focus my chi enough to do small runs most days I'd soon be fighting fit. Ho hum.
Later,
Buck.