Archive for October, 2010
I have set my heart on my new challenge, the Iron Man (IM) triathlon. An aspiration that,  I might add, has earned me little but ridicule in most circles. The exception being the Runners World forum from the Warrington half marathon. Those chaps were again very supportive and have provided me with a list of generic IM distance triathlons. Of these, the one I like the look of is the Nottingham 'Outlaw' triathlon. Same thing; 2.4 miles swim, 112 mile bike ride, 26.2 mile run, but £179 (last year, tbc this) as opposed to £325 for the brand name IM.
I'm going for it.
I went the baths, did my first swim in fifteen years. At first I was struggling with two lengths of a 20m pool. Got my rhythm and managed ten lengths. The pool geezer, Ged, was watching me. As I got out he had a word. Said that he'd been watching me and that it was taking me, head-up, 27-32 strokes to do a length. He said my fitness wasn't in question, but my technique was rubbish. He said he had proper triathletes who, with proper head-down swimming could do a length in 13 strokes. He has taken it upon himself to teach me!
Cool. Freebie lessons!
So I tried. Face in the water,blow, stroke,blow, stroke,blow, stroke,turn head, breath in a gallon of water, flounder drowning. Repeat. And again.
Two sessions of an hour each, still couldn't get more than a few strokes without running out of air or breathing in water. I was beginning to think I was going to have to give up and swim it all head-up. I went for a longer session on my day off, and finally cracked it! Huzzah! I can manage three lengths now before I run out of air.Obviously not getting sufficient air still, but it's a start. 
The  other good news is the money. I was looking at all the local baths, they all wanted over a fiver a session in the pool, and for lessons it would have been £22 a month, being on shifts I would only have been able to go to two a month, so £11 a lesson. The pools were only open 7- 8.45 am then in the evening, so useless for 2-10 shift. Then I stumbled across a local baths owned by the parish council. Open 12-4, £2.30 a session and I'm getting free lessons!  Serendipitous score!
Now I've started to get the breathing Ged is teaching me proper strokes, to be efficient and fast in the water.
So it's a backward step on my overall distance in the swimming, but a proper starting point from which I should be able to really improve.
The other thing I said I wanted to try was a distance ride, followed by an endurance run. I wanted to get a benchmark time and test my fitness. The baths weren't open early Saturday, so I just went for the 56 miles bike ride and the 13.1 miles half marathon (the distances of a half IM).
I got a bit lost at the end of the outward leg of my ride, so it was only a 51 mile ride, followed by a 13.2 mile run.
The good news is adding an hour to my time (maximum time allowed for the swim) and adjusting for the 5 miles I was short on the ride, I still finished 1½ hours inside the half IM time! First time off the bat. And I proved to myself I could eat and drink on the go and not throw up.
The bad part was the doing of it! The hills! The sweat! Then the run, I had breath and energy but my legs wouldn't move faster than a shuffle. It took me 2:02, as opposed to 1:43 on race day. From the first step it was a matter of grit and determination that kept me going. At any point I could have easily thrown in the towel. There were two or three sections of a hundred yards or so where it wasn't pure misery and I got into a stride. The rest was almost unbearable.
So, it's a work in progress, but I didn't die and I did finish. Then, a proper two times IM competitor on Twitter said, ' no, you train by doing a long bike ride one day, a long run the next, a long swim another.' Bastard. Could have mentioned that before I went into cardiac arrest.
Then there's the price of the kit; £99 for an entry level wetsuit, £140 for a pair of cycling shoes, £70 for the shorts/top combination suit they wear, £1,300 (starting price) for a tri bike, £150 for a helmet, etc, etc.
I've bought some bolt-on fancy bars for my push bike for £38, I'll be wearing the same trainers, OK, so I need the wetsuit, poss the natty shorts/top combo, and a £12 Asda cycle helmet, but that's it!
I'm still waiting for people to jump on the training bandwagon. 
*looks around* Just me then.
Buck.
That was a Black Sabbath quote, btw. Ozzy Osbourne? 70's rock legend? *sighs at the yoof of today's want of culture.*
Anyhow, Iron Man; I finished my first half-marathon on Sunday. It was epic!
It lashed down the whole time, parts of the course were flooded, others (due to the bloody hills they managed to find in Warrington) were more like streams. I seemed to be labouring up stream for thirteen miles. By the end of it I felt like a salmon on its spawning run.
Parts looked like this;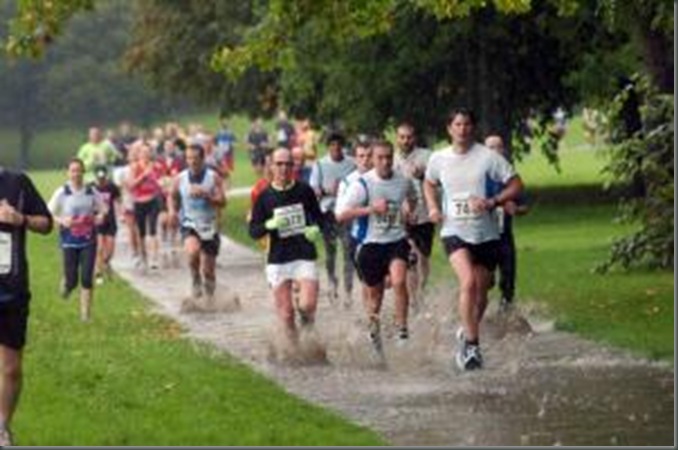 Lo-res, but you get the picture, as it were.
So, cracked the half marathon, in 1:43:38. Not too shabby for a 44 year old unfit duffer's first attempt. Two days later, convinced that I was now a top athlete, I set out for an hour's run. I had decided to do better, so was after knocking a minute a mile off my time.
Not even!
My legs were done-in for the first mile, had to force them to work, got into a 'quick' pace, then flagged almost immediately!
Ended up running 4.5 miles(in 30 odd minutes)! By the time I'd finished my legs felt like they were made of wood. I did knock 20 seconds per mile off though, so not all bad.
Then I started thinking that I needed something more challenging. Thirteen miles! Ha!
Then I stumbled across Iron Man. An endurance triathlon.
You swim 2.4 miles, on to a pushbike for 112 miles, then finish it off with a full (26.2 miles) marathon run. Obviously that in itself is a bit too easy, so they have time limits for each section, and stage it around the hills of Bolton to give you a bit of a workout.
As soon as I saw it I realized that was it; my new challenge. I have given a name to my mid-life crisis, I call it Iron Man!
There are a few obstacles,  such as being a crap swimmer. I have never been competent, and don't think in my swimming 'prime' I could complete two lengths. 2.4 miles equates to 154.4 lengths of a (25 metre) pool! Nor have I actually been for a swim in about 15 years.
Then there's the push-biking. OK, I can ride to work and back (which is 11 miles when worked out accurately) but 112 miles, after a swim, at race pace, around the hills of Bolton is a different kettle of fish.
The half-to-full marathon step up is said to be easier than the 10k to half, but even so it's quite challenging.
The thing is; as soon as I started considering it I got a buzz of nervous excitement. As Mal said in 'Firefly'  (the series that preceded the epic film 'Serenity') "We have done the impossible, and that makes us mighty". That's how I feel. It's next to impossible, the challenge would be heroic, but if you succeed…., that would be mighty, indeed!
The thing I don't understand is; everyone I've mentioned it to has said things like 'it's stupid' 'you can't do it' 'you're too old' etc. No-one has said 'hell yes, that sounds awesome, I'll train with you!'
Weird.
So here's the plan; it's my day off on Thursday, going to do a distance ride on my pushbike, get a benchmark time/ fitness assessment. Get down the baths see how many laps in what time I can actually manage. And I know my benchmark run time, 8 minute miles (which I intend to get down to  7).
Find a training programme and go for it. If it is looking at all feasible, I have the entry money (£325!) and there are still places available I will try and get in the June 2011 race, if not 2012.
Just heard off someone on the forum for the Warrington half marathon, that there may be generic extreme triathlons. If so I'll do the cheap one!
In the words of the 'Dead Ringers' Kirsty Wark , "more on that story later."
Buck.